Baker's response provided a great indicator of the mood of the team after its second consecutive victory.
"I think we should start this out by, welcome to Victory Monday," Baker said as the assembled media around his locker laughed.
A bit later in the conversation, Baker explained further the feeling of a Victory Monday after two consecutive victories.
"It feels amazing," he said. "I could definitely get used to it. It's fun, but we'll enjoy this one today and tomorrow get on to Buffalo."
The Buffalo Bills indeed are the Dolphins' next opponents, with the game scheduled for this coming Sunday at Hard Rock Stadium.
The Dolphins not will be looking to extend their winning streak to three games, but more importantly continue to build on the obvious strides they have made over the past several weeks.
Miami is 2-0 so far in November and Head Coach Brian Flores is hopeful the team can get on a roll in the second half of the regular season, even though he made it clear it wouldn't just happen by accident.
"That's going to take a lot of work," he said. "Things don't just happen in this league. You've got to make them happen, quite honestly. That's meetings. That's walk-throughs. That's practice. Tuesday is the day for 'the day off,' but the good players, the good teams I've been around, that's an active day where they're getting to know their opponent.
"Even though we've played Buffalo and it's easy to sit there and say, 'Oh, I know this guy and that guy and this guy,' but things change very quickly in this league. We're different than we were when we played Buffalo last time and so are they. I expect our guys to go about this preparation as if we haven't seen these guys. That's what I'm going to do. It's not going to just happen. Anyone who thinks that is out of their mind, quite honestly."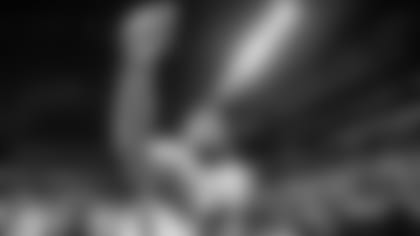 A lot of work during the week, a lot of preparation, a lot of film study, that's what largely led to the victories against the Jets and the Colts.
It's what's going to be needed for the Dolphins to have more success down the stretch.
The Dolphins, though, have seen their hard work rewarded the past few weeks with better performances and the last two games with victories. It's a feeling the players are enjoying.
"We're definitely fired up," linebacker Vince Biegel said. "That was a big win for the coaches, for the players, for the organization. We believed in ourselves and we put in a ton of work during the week with practice, film study, walk-throughs. From top down, we've put in the work. So to be able to kind of see all that hard work coming to fruition on Sundays is definitely rewarding. It's been fun to see just brick by brick, we continue to get better every single week. I'm definitely excited about what the future holds and, Coach Flo said it best, foot on the gas moving forward."