As Nik Needham was going through warmups with his Dolphins teammates before the game against the New York Giants last Sunday, he spotted a young fan in the stands at MetLife Stadium. More specifically, he spotted a young fan with a Nik Needham jersey.
Without much hesitation, Needham made his way over to the youngster and signed the jersey.
"That was cool," Needham said Wednesday. "I saw that same kid last week (against the Jets) and he said, 'You're my favorite player. I'm going to buy your jersey and I'm going to bring it next week. Can you sign it for me?'
"And I was like, all right. And then I went out there, saw he was out there and he followed me on Instagram, so I followed him back. He's like, 'Aw, you made my day. You're my favorite player. I just want to keep supporting you.' So I was like, 'Of course, I'll give you an autograph.' It's the least I can do."
The idea of a Dolphins player signing a jersey isn't all that unusual, but it's pretty special when that player is a rookie free agent who had to work his way up from the practice squad after not making the initial 53-man roster on the first Saturday of September.
Yet here is Needham, not only on the active roster now but a starter at one of the two cornerback spots. 
"It's a dream come true for sure," Needham said. "Humbling for sure. And just makes you want to keep grinding just so you don't let those people down as well. New fans, old fans, whatever it may be."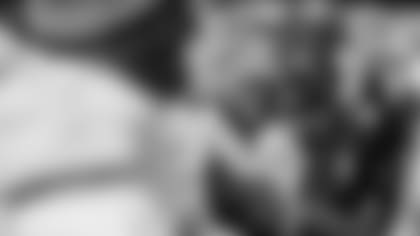 Needham has started nine of the 10 games he has been on the active roster, which he joined the day before the Week 6 game against the Washington Redskins.
The rookie from UTEP has two interceptions in 2019 to go along with a team-high 11 passes defensed.
"I think Nik has played well overall," Head Coach Brian Flores said before practice Wednesday. "Look, he's a young player. He's smart. He tackles. He's tough. I'd say he's made a lot of plays over the course of the season. He's really improved. And he's given some up. But he's gotten better and that's what really what you're looking for.
"Where he was in that first preseason game to where he is now, I think there's been a substantial development from him. There's some ups and downs with that, but at the end of the day he's made a lot of improvements and we're happy to see that. I know I am. I have expressed that to him. At the same time there's still room for improvement, room for growth. And he's got to work towards that. We'll always try to keep the foot on the gas as far as helping these players, helping them improve and get better."
The big-picture highlight was his ability to work his way onto the active roster.
Needham had started three of the four preseason games, so there was a little bit of surprise that he was among the massive list of cuts Aug. 31. But there were some things Needham needed to fix to get himself back into the picture this season.
He was told to lose some weight and he did just that.
"I would say it's been a crazy ride just from the time I got here till now," Needham said. "It's definitely been a great learning experience. It's taught me a lot, not only in football but also out of football. Life. Maturing more. Becoming a real grown man. People say you become a man in college. Nah, after college you're on your own, all that stuff. Figuring all that stuff out throughout the year. Still got a lot more improvement to go. Only go up from here, but I feel like I'm going in the right direction for sure."
The biggest lesson Needham says he learned this year is simple: "It doesn't matter what you did last week. You gotta come out 16 weeks straight and do your job."
Needham got to experience both sides of life as an NFL cornerback in his first season, whether it was the high of his pick at Indy or the low of his pass interference against the Jets.
Regardless, he has tried to stay even-keeled and focused on the process.
"That's how I always am," Needham said. "I've never tried to bask in my glory or anything. I'm always trying to make more plays, make as many plays as I can to help the team win because that's the main goal. Not a big fan of losing.
"I just try to stay as humble as possible and just keep trying to learn and grow and become a better football player."
Needham already might be a better player than he was when he first joined the Dolphins two weeks after the 2019 NFL draft.
A lot has happened since then for Needham, definitely one of the young Dolphins players who have taken advantage of their opportunities.
"It's been a crazy ride," he said. "It's definitely surreal, but just trying to take full advantage. Don't want to let it go to waste because it could be gone at any moment."