Ryan Fitzpatrick obviously would have preferred reaching the milestone while helping the Dolphins win, but he clearly understood the significance of throwing his 200th career touchdown pass.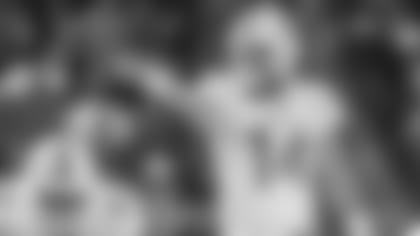 It came almost six years after he reached 100 with a 1-yard pass to running back Chris Johnson in a Tennessee Titans game at Indianapolis on Dec. 1, 2013.
Sunday, as was the case in 2013, Fitzpatrick could appreciate what the milestone meant.
"It's pretty cool," Fitzpatrick said after the game Sunday. "I remember when I was in Tennessee and I threw my 100th touchdown pass to Chris Johnson. I remember just how crazy that was for me to think about … the accomplishment, everything that I had been through and the teams I had been on.
"We lost the game today and all of that, but it's still a cool moment for me. It's a cool moment for me to share with my parents, kids and wife. It's a neat thing. When I'm done playing, I'm sure I'll enjoy it even more."
He became the 44th quarterback in NFL history to reach 200 touchdown passes. He is now one of only 11 active players to reach 200, along with Tom Brady, Drew Brees, Philip Rivers, Ben Roethlisberger, Eli Manning, Aaron Rodgers, Matt Ryan, Matthew Stafford, Russell Wilson and Joe Flacco.
Fitzpatrick is one of three quarterbacks on the complete list to have played with the Dolphins, along with (of course) Dan Marino and Jay Cutler, who threw 19 of his 227 career touchdown passes for the Dolphins in his final NFL season in 2017.
Gesicki became the 58th receiver to catch a touchdown pass from Fitzpatrick during an NFL regular season game.
That one was a memorable moment as well for Gesicki, as it represented his first NFL touchdown.
"I mean, that's huge," Fitzpatrick said. "That's a neat moment. In all of the talk about number 200 for me, that's number 1 for him. That's a pretty neat moment to be a part of. He's worked really hard this whole year. He's a guy that certainly deserves it. That's going to be one of hopefully a lot more to come. I'm really close with Mike, and that was a good moment for him."
Williams and Parker are tied among current Dolphins with three TD receptions from Fitzpatrick, but the overall leader is former Bills wide receiver Steve Johnson, who had 23, followed by former Dolphins wideout Brandon Marshall, who had 17 during his time with Fitzpatrick with the New York Jets.
Fitzpatrick's 200th career touchdown pass came on a first-and-10 from the Cleveland 19 with 39 seconds left. After taking the snap from shotgun formation, Fitzpatrick scrambled to his right after finding nobody open, then set his feet and found Hurns wide open in the end zone.
It was Fitzpatrick's 54th touchdown pass between 10 and 19 yards, which ranks second for him in terms of distances behind the 83 passes between 1 and 9 yards. He also has 42 TD passes of 30 yards or more, including his career-long 98-yard completion to Terrell Owens for the Buffalo Bills at Jacksonville in 2009.
Fitzpatrick is now one rushing TD away from tying the Dolphins single-season record for quarterbacks currently shared by David Woodley (1981), Cleo Lemon (2007) and Jay Fiedler (2001).
With his parents in the stands, it all made for a pretty good 37th birthday for Fitzpatrick, though a victory clearly would have been the icing on the cake.
"I got a lot of comments and jabs about being 37 today," Fitzpatrick said about his younger teammates, "but I just ask most of them, 'Where do you think you're going to be when you're 37?' It's cool for me to experience this with all of the young guys."