After wide receiver **DeVante Parker** failed to catch a long pass near the left sideline during practice Tuesday, he turned around, ran across the other practice field and straight to the wall near the southwest end of the practice facility.
Later in practice, every defensive player did the exact same thing while the offensive players waited for their return to resume practice.
On the wall was written in giant letters: T.N.T.
Cornerback **Eric Rowe** explained its meaning after practice, along with the idea of running to the wall and touching it after practice miscues.
"He (Brian Flores) put that wall up," Rowe said. "It means 'Takes No Talent.' It's basically just saying that mistakes that we make — offsides, false starts — little stuff that really doesn't take any talent to get good at. If we mess up — I think we had 10 guys on the field or something — and he'll just send us to the wall until we get those bad habits out of us."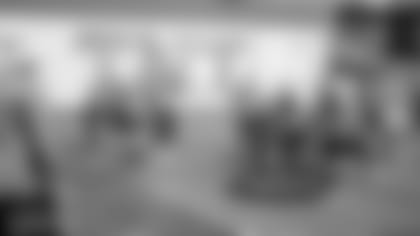 Rowe said the extra running across the field in the middle of practice, particularly on a hot South Florida day, serves as great incentive to avoid making those mental mistakes.
"Even though it's a slight jog, from running way over there, it's tiring," he said. "You don't want to make mistakes like that. I think it's just more, not a physical thing, but it's more of a mental thing. We can't have a fumble, a ball-security issue, or a false start, or if the QB fumbles the center exchange, stuff that really doesn't take much effort to get right."
Ultimately, new tackle **Jordan Mills** said, the idea of the wall is to reinforce the idea that little things can make a big difference.
"The TNT wall is just nothing but hard work, dedication and just holding ourselves to a higher standard and to focus on the fundamentals and the little things each day," he said. "It's not always much, always focusing on the big things. (It's) the little things that make a team great. Fundamentals, technique and things like that, being ready for practice and focusing on individual and team periods. That's what it's all about."
Tackle Jordan Mills became familiar with the Dolphins after spending the past four seasons with the Buffalo Bills, and now he's trying to make the most of his opportunity after signing with the team Thursday.
"It's a great opportunity," he said after practice Tuesday. "It's a great team, great young team (and a) new coaching staff. (We're) coming out here to build a championship, playoff-caliber type team and get an opportunity to play for this great organization with a great history. It's a true blessing and I'm glad to be here."
Mills, who started every game the past three years with Buffalo and has 82 starts in 87 career games, said he was confident he'd eventually land with a team after being an unrestricted free agent for close to two months.
Before his four years with Buffalo, Mills spent his first two NFL seasons with the Chicago Bears. But he grew up in Louisiana and played at Louisiana Tech, so it's not like he's a stranger to the kind of heat that South Florida produces.
"(There isn't) much of an adjustment," he said. "Even though I've been in the Chicago weather, I still go home in the offseason. The weather is no different. It gets hot. I'm not saying that I can push through — well, I can push through but I'm not saying that I'm the guy that can deal with it all the time — the heat is the heat. Even you all (media members) are standing outside in the bleachers and you still feel it. I'm a Louisiana guy and I've been dealing with it my whole life."
Welcoming the competition
"I've always had to earn every opportunity that I've received, so I love it," Fitzpatrick said. "I love the competition. I love being out here and every day, whether it's a competition with myself or somebody else, (I am) trying to be the best me that I can be. We're two days into OTAs, but the mentality of the group right now and the way we're working, we're heading in the right direction.
"I think competition always makes you better, whether it be with yourself, with another guy, with another team. Competition, especially for guys out here that are playing at this high of a level, tends to push you and make you even better."
Earlier in the day, Head Coach Brian Flores described Fitzpatrick as a leader, and the veteran said he would have no issue with serving as an example if the younger quarterbacks on the team — Rosen and **Jake Rudock** — are inclined to follow his lead.
"I think the way that I've done it throughout my career, whether I'm the guy or not the guy, is I try to prepare the best way I can prepare and do the things that have gotten me to where I am in my career," Fitzpatrick said. "If guys choose to do that as an example and follow it, they can. If they don't, they can do whatever they want. But I'm a guy that's going to work hard and try to lead by example. If people want to follow, they can."
Rosen has been busy since the trade trying to get acclimated to a new team, new city and new offense, and he explained some of the challenges of the transition.
Some of those might have been unexpected.
"You kind of underestimate, from the outside looking in, all of the logistical issues from literally having to move and uproot your place," he said. "I'm walking into the receiver room thinking it's the bathroom. (laughter) There's a lot of kind of little things that go into it, but when you step on the field, you have to kind of let all that go and just play football."
As for on-field adjustments, Rosen said that's also come along.
Rosen was able to join the Dolphins during Phase Two of the offseason conditioning program, which involved some on-field work but no offense vs. defense drills. He's now through OTA practices.
"My head is spinning, but I think a lot of that is just trying to weather the storm as much as you can and it will get better a little bit each day," Rosen said. "It's just about making progress. No matter how big, how small, it's just about making some progress each day so that a couple weeks or months down the road, you can look up and turn around and realize you've come a pretty far way."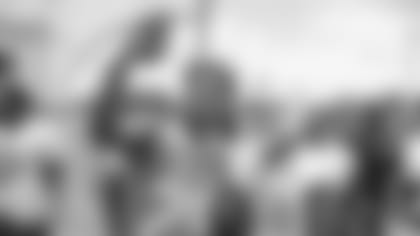 The Dolphins continued their tradition of hosting youth and high school football teams at practice, as they welcomed the Coconut Creek High Cougars on Tuesday.
The players and coaches watched the second OTA practice of the spring from the sidelines, getting a bird's-eye view of Dolphins players going through individual and team drills.
After practice, they lined up and got autographs from Dolphins players as they walked off the field. And then the Coconut Creek High players and coaches moved inside to the practice bubble, where they heard former NFL player and Dolphins Director of Youth Programs Twan Russell deliver a speech about character.
"It was great to see how the practice goes and all that, getting the experience," said Coconut Creek running back/receiver John Blackmon. "It makes me want to work harder to get here."
The visit by Coconut Creek High came after the Dolphins made several stops at high schools throughout South Florida this spring to donate much-needed equipment, equipment that will enable high school programs to do more at practice.
The Dolphins also invited high schools to practice the last two years and the plan is for more visits through the end of the offseason program from schools from Miami-Dade, Broward and Palm Beach counties.