The Dolphins conducted their third practice of training camp Saturday, but this one was different as it marked the first day of pads.
"It was awesome to feel that football feeling again," rookie offensive lineman **Michael Deiter** said. "It's cool to get out here and practice with no pads on and kind of get your footwork back and all that, but it's nothing like when you finally put the pads on. It's a whole different ballgame and it's fun. You kind of see where you're off. As soon as the pads come on, you realize what you need to get better at."
With pads on, practice featured more work on the running game, highlighted by a goal-line period that featured live tackling.
That period ended with the defense stopping running back **Kenyan Drake** short of the goal line.
"They didn't get in; that's the way it's supposed to be," defensive back **Bobby McCain** said proudly. "That's the standard."
The Dolphins will practice again Sunday before taking their first break Monday.
Every player asked after practice Saturday said the difference in intensity was noticeable with the appearance in pads, which pretty much is always the case.
"Honestly, the last two days have been pretty competitive and intense and all that, but obviously when you throw pads on it's different," tight end **Mike Gesicki** said. "Guys are coming out here and smacking heads and all that kind of stuff. It was good, though. I felt good. I feel like we were able to move the ball and do some things. Honestly, the goal today was just come out here and be physical."
McCain adjusting to new role
Bobby McCain said Saturday he now thinks of himself as a safety after continuing to get work at that position, but he continues to stay on top of learning every position in the secondary.
"I've got to know it all," McCain said. "I know it all, just about all five positions on the field. But right now I'm definitely deep."
McCain said he began the position switch became real to him toward the end of the offseason program.
He explained why he thought he was a good fit at free safety.
"Because I get the job done," McCain said. "I'm the guy to get the job done. I get the ball on the ground. At the end of the day, I'm rangy, I can move well, I can tackle, I can cover. Free safeties do a lot more covering than you think. Just being able to get to the ball, being rangy and getting the ball on the ground, that's the biggest thing."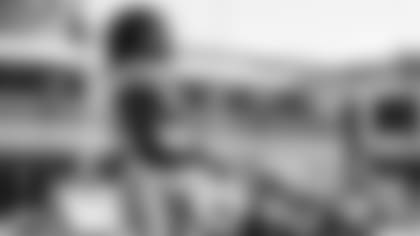 "Just sitting with them and kind of hearing what I can do better from their point of view is huge," Deiter said. "You get coached, but it's always a little different when you hear it from the guys you're playing with, especially older veterans like that. It's refreshing to see if they're seeing the same thing you're seeing and kind of getting it right together."
The third-round pick from the University of Wisconsin is focusing these days on perfecting his technique and learning the playbook.
While he naturally would love to land a starting role as a rookie, Deiter said that's not the focus right now.
"I'm not going to sit here and think about what might or might happen later," he said. "All I can do right now is work and the biggest thing I need to do is just master the playbook. Once I can get that down, I can play fast and then I'll be able to play at my best and it'll give me my best shot to help this team. It's not really a concern; it's just learning and getting better with those guys."
The Dolphins had visitors again at practice Saturday, this team members of Palm Glades Academy out of Miami.
As will be the case with every team invited this summer, the players and coaches received a tour of the Baptist Health Training Facility at Nova Southeastern University, listened to a character development talk, watched practice and met with current coaches and players on the field, and had lunch.