The Dolphins found themselves short-handed at wide receiver this past weekend, but they were to adjust on the fly against the Cleveland Browns.
Just the same, they're confident they'll find a way to get the passing game moving should Jakeem Grant and/or Albert Wilson have to sit out the game against the Philadelphia Eagles.
"We're going to have to do it through a variety of different ways, one being other positions obviously," offensive coordinator Chad O'Shea said Tuesday morning. "Whether it be the running back position, being creative with the way we're going to use those guys or the use of the tight end. Mike (Gesicki) has been somebody that's been productive for us here in recent years. I think it's going to have to be again by committee.
"We're going to have to really do a good job of getting some offense and some production from other positions other than the receiver position because right now there's a potential of maybe being down one less guy or the other. We'll see how that goes."
The Dolphins obviously would love to have both Grant and Wilson available against the Eagles, as they represent half of their wide receiver group along with DeVante Parker and Allen Hurns.
Of course, the Dolphins always have the option, if need be, of promoting somebody from the practice squad. There are three wide receivers currently on the practice squad — T.J. Rahming, Andy Jones and Isaiah Ford.
Ford played three games for the Dolphins earlier this season and had his first two NFL catches. He's somebody with whom the coaching staff is very comfortable.
"Isaiah's greatest strength is his ability to function mentally and his position flexibility that he has for us offensively," O'Shea said. "He's a guy that, despite being on the practice squad, is in every meeting and does such a good job in preparation that we can plug him in anywhere and feel very confident that he's going to know what to do. I think he has some flexibility to play inside as well as outside. I think that's been one of his greatest strengths is not only his ability to function mentally, but his ability to kind of have some flexibility as a receiver to play inside-outside, outside-inside. So that's been a real positive to have a guy in the building that is still in the developmental stages but you feel confident — and I know I feel confident and our offensive coaches feel confident — in plugging him in and we're going to have a good level of execution."
"We're still early in the week, so the status of those guys (Grant, Wilson) are still uncertain," O'Shea said. "We're early in our game plan process right now and there's a lot of things that could change either way as we go throughout the week. But as the game as was, when we were down two receivers, we had to do a good job of adjusting and utilizing some of the other positions during the game. That's what we would do if we were in that situation again."
The Dolphins will face perhaps the best tight end tandem in the NFL when they face the Eagles on Sunday.
Zach Ertz leads the Eagles with 67 catches, while Dallas Goedert leads the team with four touchdown receptions. As a team, Philadelphia has the most catches by tight ends with 98 and ranks second in receiving yards (behind only Baltimore) with 1,001.
"Just with one tight end, it's hard," defensive coordinator Patrick Graham said. "Ertz is one of the elite tight ends in the league. These guys do a good job of working together, whether it is screens or down-the-field throws, intermediate throws, RPOs (run/pass options). They're so highly involved with everything they do with the offense. You get to see all of the 12 (one back, two tight ends) personnel they are in. It does make it a challenge, but we're at work trying to figure it out right now and we'll see how it plays out on Sunday."
Rookie linebacker Andrew Van Ginkel made his NFL debut last week, and he had a highlight play when he made a great open-field tackle on a kickoff return.
On defense, Van Ginkel played seven snaps and was credited with one assist.
"You saw a young player out there getting his feet wet and stuff," Graham said. "I think there are a couple of plays he would want back and he can improve upon, but you saw a guy who was out there and running around. It was good to see him out there, put it that way. I'm looking forward to see how his growth goes this week against the Eagles."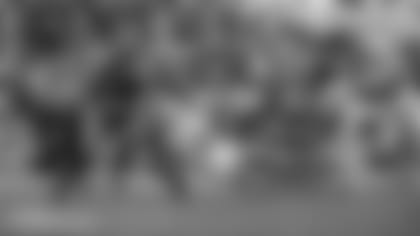 Rookie guard Shaq Calhoun returned to lineup against Cleveland for the first time in almost a month, and he did it in a starting capacity.
Calhoun had been inactive twice since his previous game, Oct. 28 at Pittsburgh, and did not play against the Colts at Lucas Oil Stadium even though he was active.
He made his first start alongside center Daniel Kilgore against Cleveland and, like everybody on the offensive line, played every snap.
"There were some real positive things he did in the game," O'Shea said. "I think prior to the game, there were some things that were very encouraging in practice, that he was really making some improvements in the areas we asked him to improve in. Now it's just a matter of overall consistency, just as it is with the entire group, the entire offense, just working to be more consistent in all areas, whether it be fundamentals, assignment, all of the above."
Calhoun replaced in the starting lineup veteran Evan Boehm, who had started the previous two games at right guard after filling in for Kilgore at center for three games.
O'Shea said Calhoun earned his spot back in the starting lineup against Cleveland.
"As I've said all along with that position (offensive line), we're trying to find the best five for that game," O'Shea said. "I think a lot of things factor into that. It might be the matchup we're facing that week. It might be the scheme in which we're using. I know Evan performed well for us inside at center and did some good things at guard. Shaq had another opportunity to go play for us, and Shaq did some things in practice prior to being in the lineup that were really encouraging. He earned his way into the lineup by his preparation and his practice. There were some positive things he did in the game."