Rookie linebacker Jamal Davis II, who joined the Dolphins this week, is looking forward to making his NFL debut.
When that happens, it will make him the fourth player from Akron to play for the Dolphins, which includes Hall of Famer Jason Taylor.
"I've been getting that since I've been here actually," said Davis, who was claimed off waivers from the Tennessee Titans on Tuesday. "Like, Jason Taylor, Akron, University of Akron and stuff. I know he probably heard and we'll talk soon hopefully. But it's dope. It's very dope."
Davis, who had 31.5 tackles for loss his last two seasons at Akron, said he has been communicating with Taylor since the 2018 season, though the two never met in person.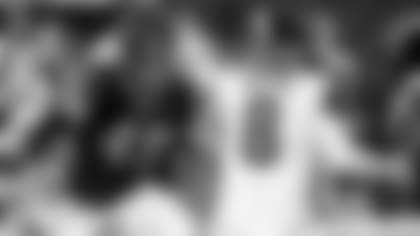 "I got his number and we've texted a few times and stuff like that," Davis said. "It's a blessing to have a legend, be able to text a legend. But I haven't met him in person or anything, but I'm looking forward to that hopefully one day.
"Yeah, (he gave) good advice. He just told me to continue to go hard, never give up, continue to strive for greatness and good things will come. That's what I've been doing."
Davis joined the Dolphins after spending time this year with the Houston Texans, who signed him as an undrafted free agent, the Indianapolis Colts. He's hoping to make his stay in South Florida a long one.
"I've got to come out here every day and prove myself now," Davis said. "Now that I'm active, I can't get content with just being active. I want to go out there Sunday and show what I've got and hopefully they have the mind-set to keep me around here for a long time after I do."
There will be a familiar name and familiar face on the opposing sideline when the Dolphins face the Giants at MetLife Stadium on Sunday.
Former Dolphins assistant Mike Shula, the son of Dolphins Hall of Fame coach Don Shula, is in his second season as offensive coordinator and quarterbacks coach with the Giants and in his 28th year as an NFL coach.
His NFL resume includes two stints with the Dolphins — in 1991-92 as a coaches' assistant and from 2000-02 as quarterbacks coach.
After his second stint with the Dolphins, Shula took over as head coach at the University of Alabama, where he was succeeded by another former Dolphins head coach, Nick Saban.
This will be the seventh time Shula has faced the Dolphins. He has a 3-3 record as an assistant coach against Miami.
The Dolphins-Giants game will feature a battle between two of the most accomplished special teams players in the NFL, and they also happen to be former teammates and good friends.
Michael Thomas is in his second season with the Giants after spending the previous four-plus years with the Dolphins, for whom he became special teams captain.
Walt Aikens played with Thomas during those four seasons and became a special teams standout and eventually special teams captain.
"Looking forward to it," Aikens said Friday. "Mike T is a good player. We've got a great relationship. It's good to finally be on another side of the ball other than in practice years ago.
"Mike T is someone who I leaned on and we talked about a lot of stuff together. We were on the same page. Another aggressive player. Helped me out as a young player. And I appreciate him for it. But, yeah, we had a great relationship. It was great playing with Mike T. Hard worker. Always in the right place at the right time and always trying to better everybody else around him."
While Thomas is the only former Dolphins player on the Giants roster, the Dolphins have several ex-Giants on their roster.
The group includes defensive tackle John Jenkins, defensive end Avery Moss and guard/center Evan Brown, along with practice squad linebacker Jake Carlock.
Jenkins said he viewed the game as just another opportunity to line up with the guys with whom he's spent this season, though he added: "I've got a lot of buddies who are over there who are with the Giants still and it's going to be cool to see them and play against them. It was always good between us. Just another opportunity to have fun and play against buddies, guys around the way that you know."
Along with the players, the Dolphins have four coaches who have worked for the Giants in the past: defensive coordinator Patrick Graham, offensive line coach Dave DeGuglielmo, linebackers coach Rob Leonard and running backs coach Eric Studesville.
Dolphins rookie Christian Wilkins was part of Clemson's memorable 2019 defensive line draft class, and he'll get to see another member of that group Sunday.
Wilkins was one of three Clemson defensive linemen selected in the first round, matching a draft record set in 2006 by North Carolina State with Mario Williams, John McCargo and Manny Lawson, who ended up playing linebacker in the NFL.
Dexter Lawrence was the third Clemson D-lineman to go in the first round as the Giants selected him 17th overall, four spots after the Dolphins took Wilkins.
Lawrence has started all 13 games for the Giants, and has 34 tackles and 2.5 sacks. Wilkins has 49 tackles and one sack in 12 starts.
The first Clemson defensive lineman taken in the 2019 draft was end Clelin Ferrell, who went fourth to Oakland. Yet another Clemson D-lineman, Austin Bryant, was taken in the fourth round by the Detroit Lions.