Hard Work Breeds Opportunity
The Dolphins produced the second-highest rushing output of the season in Sunday's 24-0 win over the Jets. Running back Myles Gaskin set career highs with 126 yards from scrimmage and 91 rushing yards in the victory. He did it despite tying his season-low in snaps (39, tied with his Week 1 total in New England).
Gaskin has been the workhorse for Miami this season. He's played 261 snaps, good for 67 percent of the offense's plays. His 340 rushing yards and 18 first down carries are both 18th among NFL running backs. He's 20th among backs in average yards after contact, per Pro Football Focus (min. 50 carries).
This success for the Dolphins second-year back comes a year after he was a seventh-round draft choice. Gaskin began his rookie year on the practice squad before making his NFL debut in the Week 10 win at the Colts. Playing 38 snaps with 36 carries in 2019, Gaskin produced 133 rushing yards with 118 of those coming after initial contact, an average of 3.28 yards after contact, per PFF.
Now, Gaskin is well beyond his 2019 carry total (82 in 2020) and is averaging 18.1 touches per game. Running Backs Coach Eric Studesville detailed Gaskin's determined work ethic and demeanor as major part of his success, as well as the staff's trust to give the 23-year-old the bulk of the workload.
"It's his humility and how he's approaching the success that he's having," Studesville said. "Every day he gets better as a player but you don't see him change. He hasn't changed since he walked in here last year. He's a studied person, he's highly focused and he gives you everything he has every day."
Earlier this month, Jerome Baker said Gaskin's elevation to prominent fixture on the Dolphins offense is a surprise to no one around the building. He corroborates Studesville's comments about Gaskin's work habits.
"If you've been around here, you're not surprised at all about Myles," Baker said. "He goes hard. He's smart and he truly works hard not just during practice, but outside of practice. Even this week, we had a few days off. If I come in and just do some stuff in here, he's on the field doing ladder drills, running. He's a guy that does way more than what they ask him."
The plethora of options available to Offensive Coordinator Chan Gailey is a situation of too many mouths to feed, but a problem Gailey is happy to have.
"We have some good players we can get the ball to and now the defense can't focus on one guy," Gailey said. "They know that we have several options and we're not afraid to throw it to any of them."
The glue that holds any offense together is the line. In Sunday's win over the Jets, center Ted Karras was PFF's highest-graded Dolphins run blocker and didn't allow a single quarterback pressure. It was his second pass protection shutout of the season (Week 2 vs. Buffalo) and he's been charged with just five pressures allowed in the Dolphins' first six games. Four of those pressures are hurries and one is a hit, meaning he hasn't allowed a sack all season.
The production is fantastic, but the communication and leadership he provides for a young offensive line – which has seen three rookies play significant snaps – is immeasurable. Dolphins Offensive Line Coach Steve Marshall discussed Karras' impact through six weeks.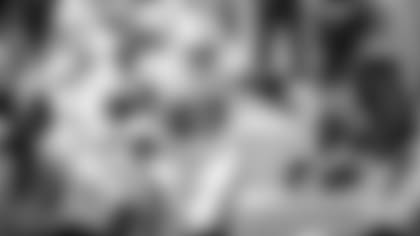 "Ted has been schooled well," Marshall said. "He has a great understanding of what defenses are trying to do and where the pressure points are. He's a consummate pro. He runs the ship up there and has been a great asset to all of those guys up front, and not only in the pass game but in the run game too. He's a true pro. That's what a pro center does."
The Dolphins offense is averaging 26.7 points per game, the 14th-best mark in the NFL. The defense jumped up the leaderboard after the shutout climbing to the fourth-best points per game allowed average (18.8) in the league.
Dolphins Defensive Coordinator Josh Boyer revealed his affinity for legendary Dolphins Defensive Coordinator Bill Arnsparger back in August.
"One thing that I was really excited about and in fact it just so happened that Bill Arnsparger was awarded the Dr. Z Award (for lifetime achievement) this year, which I think he's more than deserving," Boyer said. "I read his book years ago."
After his first shutout as a defensive coordinator, Boyer was asked by the media about which elements of the Dolphins' effort that he believed Coach Arnsparger would've been most pleased.
"The thing Bill probably would've been most impressed with was getting all 11 guys around the football," Boyer said.
The Dolphins defense is tied for sixth in the NFL with 17 sacks. Defensive end Emmanuel Ogbah is tied for fourth in the league with his five quarterback sacks. Boyer appreciates what the coaching staff calls the flash stats (sacks, interceptions), but Ogbah's true impact goes beyond that small percentage of plays.
"He's fiercely competitive," Boyer said. "He can do a lot of things. He's very multiple. He's shown constant improvement week after week. People talk about the flash stats, but he does a lot of other things that create chances for other guys. He's a hard worker and a joy to be around."
Ogbah is one of many new faces in Miami this year. The theme of the player acquisition process, and a theme of recent player press conferences, was a focus on players that love the game and players who prioritize the game.
"I think everyone just wants to do everything right, which is a good sign for our team," Karras said. "Everyone is striving to do the right thing. We're trending in the right direction, working really hard. We are holding each other accountable and it's a lot of fun to play on a team like that with a lot of big playmakers and a lot of talent."
Karras made that comment on Monday. Boyer offered his thoughts on the culture and chemistry of the Dolphins locker room today as he detailed rookie safety Brandon Jones' tackle for loss on a third-down-and-2 in the fourth quarter.
"Brandon Jones got that tackle for loss on that and you could see the excitement," Boyer said. "They were all happy for him and I think that's a credit to (Brian Flores) and (General Manager) Chris (Grier) for the culture that we have. When offensive guys are getting excited for the defensive guys, that's a pretty good sign."
"Coach Flores and my background are very similar," Boyer added. "The teams that we've been on that have been good, they've had good chemistry. It starts with guys that are fiercely competitive. Selfless guys that put the team first. When you get a group of guys that can do that, it's amazing what you can accomplish when nobody cares who gets the credit for it."