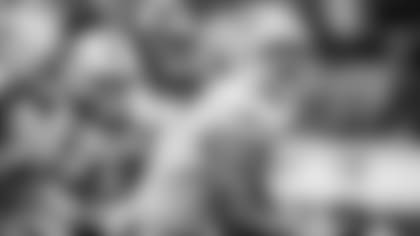 Those were some pretty cool moments for the Dolphins' third-year linebacker, but the goal is to get the job done against everybody on the schedule and not just against two Super Bowl-winning quarterbacks.
While he hasn't gotten a sack or an interception every game, Biegel has managed to deliver a pretty consistent performance in his first season with the Dolphins. And it hasn't come by accident.
"He comes into work, he's a diligent worker," defensive coordinator Patrick Graham said. "I think he works at it. He's open to coaching. He works hard on the practice field. I don't know if he takes any reps off, not that any of our guys do.
"I think he's really bought into that practice is the most important thing we do during the week leading into the game. He does a good job of maximizing that out there on the practice field because it's the closest we get to game reality, so the better you do there — if you make your mistakes there and you get them corrected — the more confidence you'll have going into the game. I think he's done a good job with that, along with other guys on the team."
Acquired from the New Orleans Saints the day after the end of the preseason for fellow linebacker Kiko Alonso, Biegel needed some time to get adjusted to his new surroundings and new team. That led to him seeing more snaps on special teams than on defense in the first few weeks of the regular season.
But since the Dolphins came back from their bye to face the Washington Redskins in Week 6, Biegel has been a mainstay on defense.
He has started nine of the past 10 games and has continued to make significant contributions.
He has recorded at least five tackles eight times in those 10 games, with a high of nine against the Pittsburgh Steelers in Week 8 and eight against the New York Jets in Week 14.
Biegel leads the team in quarterback hits with 11 and is tied for the team lead with Sam Eguavoen in tackles for loss with seven.
The sack of Brady was one of two on the season for Biegel, whose interceptions of Manning came in the second quarter.
Biegel described his sack of Brady as a bucket list item and he was equally enthusiastic about picking off Manning.
"I fell right into coverage and PG (Patrick Graham) talked about all week how one of Eli's favorite routes is a slant, so I felt the slant behind me and I was able to get one thrown right to me in the bread basket and was thankfully able to make the play and put our offense in good field position," Biegel said. "It was my first career interception and it wasn't up against that bad of a quarterback, so I was very, very thankful. And it was a good play call as well on PG's end.
"I've got a ton, a ton of respect for Eli Manning. He's been doing this for a very, very long time. I remember being a kid in middle school watching him, so to be able to go out there and line up against him is truly an honor and there is a strong possibility this could be his last game here. Credit to him, but I think most importantly, focusing on us, there were a lot of things that we need to improve on and I think it starts tomorrow on those corrections and moving forward."
Rest assured Biegel already has been hard at work following the Giants game because that's how he rolls.
And so far it has paid off for him.
As Graham said, "He's put in the work and you love to see guys get rewarded for their hard work."