Dolphins linebacker Sam Eguavoen remembers playing in Dallas during his time at Texas Tech University and getting caught up in the grandeur of AT&T Stadium.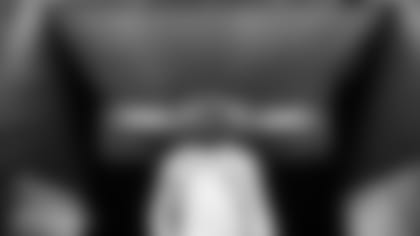 "Heck yeah, I'd make a play and I'm leaning back, I'm trying to see myself on the screen," Eguavoen said. "Like, yeah!"
"I'll be looking a little bit," he said. "I mean, the screen is just huge, so it's just going to be like, damn, I'm up there."
It's going to be about more than just A&T Stadium and its giant video screens for Eguavoen this weekend, though.
He'll be going back home and playing in front of family and friends. The same holds true for wide receiver Jakeem Grant and offensive tackle J'Marcus Webb, who also are from the Dallas area.
"Being back home, it's going to be good, because I get to see family and stuff for a short period of time," Grant said. "It (will) feel good to be back in the state."
Eguavoen said he was expecting to have about 14 people at the game. For Grant, that number is significantly higher.
"It's a family reunion," Grant said. "That's all I can say. (laughter) It's going to be a family reunion. There's going to be a lot. I'm going to enjoy it."
Grant said the number is so large that he wasn't going to pay for all the tickets. One exception is his older brother, Markeith, though there's a caveat.
See, Markeith is a BIG Cowboys fan and Jakeem told him if he got him inside the stadium he would not be allowed to wear Cowboys paraphernalia — though Jakeem joked he probably would end up wearing a Cowboys undershirt.
"He plays with the Cowboys on Madden," Jakeem said. "He's a Madden freak and die-hard Cowboys fan. He was like, 'Keep your head on a swivel when you go across the middle.' I was like, 'Man, whatever.' He was like, 'I'm telling you, because I was playing against the Dolphins earlier this week with the Cowboys and I hit you pretty hard.' I'm like, 'Man, whatever.' (laughter) He's just giving me a hard time about that, but it's all love.
"My brother is a die-hard Cowboys fans. The Cowboys can do no wrong in his eyes. Yes, I'm his younger brother, but it's the Cowboys. He loves the Cowboys and he won't let me say anything about the Cowboys, so it's like I can't win on that one."
Grant and Eguavoen were teammates at Texas Tech, and they both played their annual game against Baylor (with cornerback Xavien Howard) at AT&T Stadium.
Grant had some memorable moments at the big stadium, including a 97-yard kickoff return for a touchdown as a freshman in 2012 and a 155-yard receiving game as a junior in 2014.
For his part, Eguavoen had at least eight tackles in each of his first games against Baylor at AT&T Stadium.
While Grant and Eguavoen have never played in Dallas as NFL players, Webb has two such games.
He started for the Chicago Bears in 2012 when they won 34-18 at AT&T Stadium, and served in a backup role for the Minnesota Vikings the next season when Dallas pulled out a 27-23 victory.
Needless to say, this is a game with extra significance for the three Dallas-area Dolphins players, even though they didn't necessarily circle the date the second the 2019 NFL schedule came out.
"It really didn't stand out to me until I had all of my family calling me — because they're Cowboys fans, of course — and like talking trash and stuff like that," Grant said. "I'm like, 'Man, whatever. You'll see whenever we get ready to play them.' They're for me and the Dolphins, but then they're (also) Cowboys fans, so I've got to hear a lot of trash talking. I'm not really worried about what they're saying. They were like, 'I hope you have a good game. That's all I can say.' "
After three seasons in the Canadian Football League, making an NFL roster was a dream come true for Eguavoen.
Getting the chance to play at AT&T Stadium is just a bonus.
"It's going to be huge for me," Eguavoen said. "I've been a Cowboys fan all my life just growing up in Dallas. It's crazy to think my first year in the NFL I'm getting to play the Cowboys in Dallas.
"From when I was coming out of the CFL and I could basically pick what team I wanted to go to, I wasn't thinking about what team plays Dallas or anything like that, and coming to Miami, I'm like, yo, we got Dallas on the schedule?! Week 3?! It's going to be huge. It's my family's first time getting to watch me play in person since the last game of my senior year when we played Baylor at Cowboys Stadium. It's going to be a huge moment for me, my family and for this team because we're going to get that win too."