Josh Rosen said Friday he didn't have any expectations when it came to when he'd have an opportunity to start at quarterback for the Dolphins, but he's certainly excited about getting the chance this week.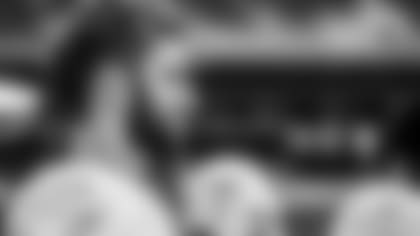 "I'm very excited," Rosen said after practice Friday. "I'm looking forward to going out and play and fight another day. I didn't really have any expectations. I was just trying to practice (well) day in and day out."
Head Coach Brian Flores said Rosen's performance in practice this week played a part in his decision to make the switch at quarterback after Ryan Fitzpatrick started the first two games.
"We gave them both reps each week," Flores said. "We liked where Josh was. He had two good days of practice. We decided to make the move. He had a good practice yesterday. It wasn't just the two practices, he had been practicing well up to this point. We felt like that was the right move for the team."
At 22 years old and 222 days, Rosen will become the youngest quarterback to start a game for the Dolphins since Dan Marino in 1983. Marino made his first NFL start less than a month after he turned 22.
While this represents an opportunity for Rosen to convince the Dolphins he should be their quarterback of the future, both he and Flores would rather focus on the present.
"You definitely think about it to an extent, but it doesn't really change anything I do or affect it," Rosen said. "I've got ears and I've got eyes, (but) you try to not let it affect you."
Rosen made 13 starts for the Cardinals last season after veteran Sam Bradford was injured.
Just as he had Bradford's experience on which to lean last year, Rosen has a valuable teammate in Fitzpatrick.
"I got plenty of things that I remember Sam Bradford teaching me in the dog days of training camp in Arizona that I still bring with me and Fitz has been an unbelievable help ever since I got here," Rosen said. "So any experience is good experience.
"Fitz, as a veteran of his stature, he's got a good amount of say even within the game plan. I think he's someone that even a couple of coaches lean on here and there. With me specifically, he helps me study techniques that have been good with him throughout his career, helps me different ways of seeing particular defenses, different little tips. Fitz has been probably most helpful with trying to understand what information is valuable with regards to defenses and your own plays and trying to play fast on the field."
Rosen saw action in each of the Dolphins' first two games and showed no hesitation in throwing deep passes, though he was hurt by dropped passes last Sunday against New England.
Rosen doesn't hesitate to say he likes taking deep shots.
"Yeah, absolutely, but at the same time you also kind of have to know when to taper it back a little bit and play more intelligently," he said. "That's kind of been the battle of me against myself throughout my entire career. I'm a very aggressive player but sometimes I'll take chances that'll be like, 'Oh! Oh! Good job.' Great in the moment but sort of that affirmation that it worked (but) maybe the next time it doesn't, isn't a good thing."
Deep shots or not, Rosen says he's hoping to provide a spark to the offense.
Flores believes the time has come to see if he can do just that.
"He made some good throws (in practice), Flores said. "He had good practices. I think he maybe saw an opportunity and jumped at it, practiced really well. Not to say that wasn't the case in previous weeks; he had been practicing well. We felt like it was the right move for the team. With Josh, his development is very important to me. I never wanted to throw him in there too quickly, but I do think he's ready. He's shown me that he's ready to go."