Veteran Eric Rowe has worked the past two games at safety after his previous NFL experience came at cornerback, and he might wind up staying at that position for a while.
Head Coach Brian Flores was asked Friday whether he now considered Rowe a safety.
"I think he's a defensive back," Flores answered. "I think depending on the week he could be a corner, he could be a safety, he could be a nickel back, he could be a linebacker some weeks. His versatility is important to us. It's allowed us to do a few different things. I think he's in a good place right now and hopefully he continues to grow in the position that he's in now, but that could change very quickly."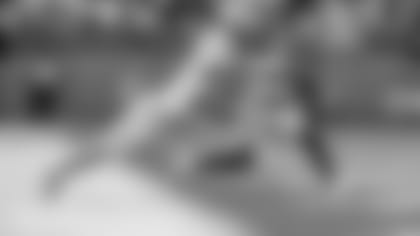 So Rowe conceivably could be back at cornerback or he could be staying at safety for another week or perhaps longer.
"What I know about Eric is whatever we need he'll do his best and try to give it to us," Flores said. "Love that about him."
Davenport back at practice
Tackle Julién Davenport admitted he was a bit rusty at practice this week, but that couldn't take away from his excitement at simply being back on the field.
Davenport practiced Thursday and Friday after the Dolphins designated him for return off the injured reserve list.
"It's great," he said after practice Friday. "Just trying to get my technique down and knock some rust off, make sure I feel real good. Still a work in progress.
"I just wanted to get on the field. I was just happy to be able to get on the field and feel some grass, put my cleats on and move around a little bit."
Davenport was placed on injured reserve Sept. 13, one day after sustaining a leg injury during practice.
He's eligible to return to game action Nov. 17 against the Buffalo Bills, and the Dolphins have until Nov. 21 to decide on his status for the remainder of the 2019 season.
Davenport, though, isn't looking that far ahead.
"No dates (circled on the calendar), he said. "It's just a day at a time thing because every day could be different. We're just seeing how things go and hopefully we keep progressing and everything will work out fine as we go on.
"I want to make sure I'm right. We're still taking it a day at a time and make sure everything is good before anything happens."
For this week, though, everything was good for Davenport because he was back at practice.
"Who doesn't want to play football?" he said. "Me being able to go back to practice is really exciting in itself. It's been a while since I've been on the field and had my cleats on, so I'm just ready to get the feel again."
The Dolphins made some changes to their practice this week, the latest move involving the re-signing of wide receiver Isaiah Ford.
A day earlier, the Dolphins brought back safety Doug Middleton to the practice squad.
To make room for Ford, who was waived Wednesday to make room for Crawley, the Dolphins released fellow wide receiver Andy Jones.
The complete practice squad is as follows: QB Jake Rudock, S Doug Middleton, S Montre Hartage, DT Gerald Willis, LB Terrill Hanks, DT Durval Queiroz Neto, DT Frank Herron, T Chidi Okeke, WR T.J. Rahming, WR Isaiah Ford, TE Chris Myarick.