The Dolphins added two new players to their active roster Tuesday, and one of them happens to be one of the most accomplished punt returners in the NFL.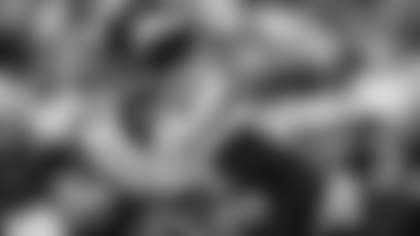 Additionally, Sherels is third in punt return yards with 2,480, trailing only Sproles (2,961) and former Dolphins first-round pick Ted Ginn Jr.
Sherels previously spent his entire career with the Minnesota Vikings, with the exception of five months this year with the New Orleans Saints, who released him Sept. 1 before he returned to the Vikings for three games.
Turner was signed off the Baltimore Ravens practice squad.
Jesse Davis has played a lot of roles for the Dolphins offensive line over the past couple of seasons, with center being the only spot missing from his resume.
After starting games at both guard spots and right tackles in 2017, Davis played every snap at right guard last season before starting this year at left tackle. After missing the Chargers game because of an elbow injury on the final Sunday in September, Davis returned to right tackle and he has remained at that spot.
Offensive line coach Dave DeGuglielmo loves Davis' versatility and believes he could add that final position to his resume at some point.
"I see movement skills, body type," DeGuglielmo said Tuesday. "I see athleticism. I see the areas that make me believe he could play inside or outside. He might make a great center one day. I don't think that's in his personality, but if need be, he's athletic enough to do that. I think Jesse is the kind of guy that wherever you need him, he can play.
"He may be more comfortable at one place or another, but he's never one to let you know that. He's just going to go out and do what he's asked to do. I love that kind of guy. I wish I had a bunch of them, too. Slowly we put together a crew, a room full of guys like Jesse and (Michael) Deiter and those guys. That's what we need."
When Jason Sanders missed a 49-yard field goal attempt against the Jets last Sunday, that was his fourth miss of the season after he missed only two all of last year.
Special teams coordinator Danny Crossman said Tuesday he was not worried about his kicker, who is 6-for-10 on the season after going 18-for-20 in 2018.
"Not at all," Crossman said. "There's a lot of things that go into that. We have complete confidence. We need to start getting it done on game day, but we feel very secure, very confident with Jason and where he is."
The Dolphins enjoyed the victory against the New York Jets on Sunday, but don't think for a second they haven't turned the page.
The focus now is strictly on the Indianapolis Colts, the next team on the Dolphins schedule.
No more relishing the victory against the Jets. That's in the past.
"Absolutely not," defensive coordinator Patrick Graham said. "If you do that in this league, any type of complacency, you won't be here for very long. You're not going to be here very long if you do that. We've got to get ready for the Colts."
Graham explained further that his philosophy applies to life as well, not just football.
"Anytime you have success, you're fighting," he said. "Like my kids, I don't want them getting complacent. Just because your mom and dad can afford this stuff that we couldn't afford when we were kids, I don't want you to get complacent. I make sure I check them every week. (laughter) I think that's just a life thing. I think the beauty of the NFL (is) there's only 16 opportunities you're guaranteed and the people that stick around the longest — the players, the coaches that stick around the longest — they realize once that game is over, you've got to move onto the next one, because there's only 16 opportunities."
Linebacker Jerome Baker was mic'ed up during the Jets game for Showtime's "Inside The NFL" and he produced some classic moments.
Turns out Baker's mother attended the game and he's heard wondering a couple of times and asking where she was and then saying in relief he had spotted her.
Another good line came when Baker helped bring down running back Le'Veon Bell on a running play and then proclaimed, "I'm a (bleepin') D-tackle."
"Inside the NFL" premieres on Showtime on Tuesday at 9 p.m. with replays Tuesdays at 11 p.m. and Thursday at 12 a.m.