Defensive lineman Zach Sieler made an immediate impact in his first start with the Dolphins, and defensive coordinator Patrick Graham said Tuesday it was all about fundamentals.
The 6-foot-6, 290-pound newcomer to the active roster made his first start for the Dolphins against Cincinnati on Sunday and finished with seven tackles, a sack and two passes defensed. The seven tackles represented the second-highest total for a Dolphins defensive lineman this season behind only the nine recorded by Davon Godchaux against the Cleveland Browns in Week 12.
Sieler, a second-year player from Ferris State, appeared in four games with the Baltimore Ravens this season before being waived in early December and then claimed by the Dolphins.
"The thing with him, you saw on the tape, he plays with his hands in front of his eyes," Graham said Tuesday. "I know its' small stuff and I'm (doing) coachspeak, but this is how I talk. I'll be talking like this at Christmas with my brother. It's the same thing. Hands in front of your eyes. Keep it simple. That's what he does. And because he was able to get his hands on the blockers and use his length, he was able to make plays."
Wide receiver Isaiah Ford came up big in the clutch for the Dolphins in overtime against Cincinnati, and offensive coordinator Chad O'Shea said that didn't happen by accident.
Ford had a 15-yard reception to convert a third-and-10 on the Dolphins' third possession of overtime and later on the same drive added a 28-yard catch to set up Jason Sanders' game-winning field goal.
O'Shea said Ford's clutch performance was a testament to the wide receiver's professionalism while he was on the practice squad earlier this season.
"Isaiah Ford wasn't even on the roster for several weeks, so he could have taken the approach that he wasn't part of this, but he didn't," O'Shea said. "He embraced his role at the time. He tried to improve. He tried to learn what we were doing, the game plan, even though he wasn't going to be active on game day. What a great example it was to watch him in the game come through in the most critical time of the game. And I think a lot of that has to do with when he was in the role of being not on the roster and inactive, how he approached that."
Ford, a 2017 seventh-round draft pick, who made his NFL debut last season, has 14 catches over the past three games after making his first two NFL receptions against the Los Angeles Chargers in Week 4.
O'Shea is about to wrap up his first year as an NFL offensive coordinator, and he described it Tuesday as a humbling experience.
"I'm very fortunate to be in this position," he said. "That hasn't changed throughout the year. There hasn't been a day I've walked in the building and haven't been very fortunate and appreciative of the opportunity that I have to be in this position. It's been a learning experience. There hasn't been a day I haven't walked off the field or left a meeting that I haven't learned from and been better because of.
As he has throughout the season, O'Shea talked about how coachable he has found the 2019 Dolphins offensive players.
"They've tried to do what we've asked to do, despite maybe good and bad," O'Shea said. "They've really embraced that part of it. They've been very coachable. They've been a pleasure to work with. Certainly (Ryan Fizpatrick) has a lot to do with this. For me to have somebody in his role, a veteran player that brings such strong traits was very valuable to me in the first year and was very helpful. It's been a learning epxerience when I look back. I look forward to the future. I look forward to learning from the past but even more excited about the future and just excited about how our players have responded to this year."
After moving players in and out of the game on the offensive line the previous three weeks, the Dolphins stuck with the same five against Cincinnati — only adding Adam Pankey as a sixth offensive linemen in certain situations.
This was particularly notable at guard, where the Dolphins have used several different combinations.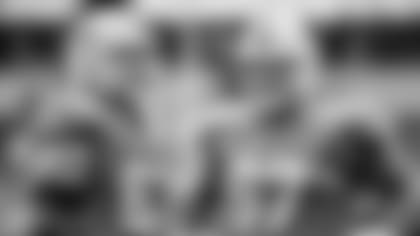 "I thought there were some plays in which there was consistency within the play and within the series," O'Shea said, "and it really helped generate some production and score some points."
Deiter was back in the starting lineup for a second consecutive game after coming off the bench against the New Jets, breaking a string of consecutive starts that went back to his high school days.
"There was definitely some improvement," O'Shea said about Deiter's past two starts. "Again, what we've been searching for, not only with Deiter but all positions offensively, is consistency. There's certainly areas that he's done well in, there's been positives, there is improvement. But as is the case with all our offense, there's got to be a consistency if we're going to have success."
O'Shea and Graham both were asked Tuesday to name some players whose growth throughout the 2019 season had pleased them.
While O'Shea mentioned the statistical performances of wide receiver DeVante Parker and tight end Mike Gesicki, Graham offered three players from very distinct reasons.
"One of the players that stood out, and he didn't even pay last week, was Raekwon McMillan," Graham said. "His leadership. He's improved as a leader. He probably had those leadership qualities before I even met him, but it's improved there. In terms of some of the younger guys, Christian Wilkins in terms of how his play has improved over the year and now we're starting to see the fruits of his labor in terms of what he's been working on at practice. Or you talk about somebody like Montre (Hartage), where we're going to need his best this week because of who we're going against in terms of New England and all the guys they have, but how his tackling has improved."