"You work out and it is early in the morning, tension is high, but I just worked out and they told me that 'We will get back to you and see what happens this week,' " Webb said. "I keep it optimistic and I came in this morning and just got right to work."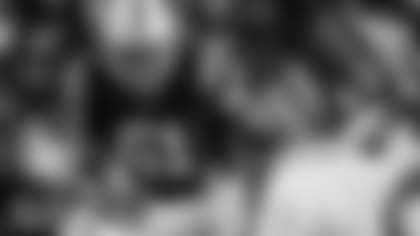 Webb spent training camp with the Indianapolis Colts, for whom he started the 2018 season opener before sustaining a hamstring injury that landed him on injured reserve.
Webb has started at both right and left tackle during his NFL career, which has included stints with the Bears, Vikings, Raiders and Seahawks.
Head Coach Brian Flores said Friday the coaches would try to get Webb ready to contribute Sunday against the Baltimore Ravens.
Webb is ready to do whatever it takes.
"Well, you have got 48 hours of prep time and there is always time for working and studying and I am here to do what they have me to do, which is play when asked," he said. "So, hopefully it is ample time to keep studying and communicating the way that this offensive line has been.
"It's not like I have been sitting at home. I have been with another team and been working hard and you've just got to come in at any point in time when you are a veteran and make an impact and I feel like I can make an impact with my experience and my ability to pick up things on the fly."
"I'm excited, as I have been for every other game in my life pretty much, but this one is obviously a little different, it being my first game — my first official NFL game," Wilkins said. "I'm just excited. I've just got to prepare every way I do for every game. I can't get too overexcited or play too emotional or anything like that. I've got to play within myself, but I'm definitely looking forward to it."
Listed first on the depth chart at one of the defensive end spots, Wilkins is looking at playing a significant role at the outset of his NFL career.
And that's just the way he wants it.
"Whatever is thrown at me, I just want to embrace it — the good, bad, the ugly, whatever it is," Wilkins said. "I just embrace everything that's thrown my way, so if the team needs me to go out there and play a lot of snaps, I'm just going to embrace it and roll with it. If the team needs me to take fewer snaps, whatever it is, however I can help this team best, I'm all for that. The more I can do, the better, and the more responsibility that I have, I'm just going to embrace it and try to take it and roll with it."
Dealing with Lamar Jackson
The Dolphins will get their first up-close look at Baltimore quarterback Lamar Jackson on Sunday, but Wilkins has some prior experience with the dynamic dual threat.
Wilkins faced Jackson twice during his time at Clemson, and while his team won both games, he saw the kind of damage Jackson can do.
During Jackson's Heisman Trophy-winning season of 2016, he passed for 295 yards and rushed for 162 and helped Louisville put up 36 points against Clemson in a 42-36 loss. The next year, Jackson was held to 64 rushing yards but passed for 317 when Clemson defeated Louisville 42-21.
"We thought we were doing well on him, and then all of a sudden, he'll break a 40-yard run, break a 20-yard run here and there and just looking up, you're like, 'Dang, he's really moving the ball.' " Wilkins said. "He's a really good player — competitive, wiry, strong. You think you can tackle him. You look at his frame like, 'Oh, he's a skinny guy.' But when you try to tackle him, he's spinning and getting off and breaking tackles left and right. He's definitely as good as advertised."
In the aftermath of Hurricane Dorian, Owner Stephen Ross and the Dolphins have announced plans to help the rebuilding efforts in the Bahamas.
In the first in a series of events designed to give long-term support to the region, the Dolphins will hold collection drives for fans with tickets to the soccer match between Brazil and Colombia on Friday, and the Dolphins home games against the Baltimore Ravens and New England Patriots the next two Sundays.
Collection times will be from 4-8 p.m. Friday, and from 9 a.m. to 1 p.m. on the two Sundays.
Fans are asked to donate flashlights and batteries; adult and baby diapers; baby wipes; and feminine hygiene products. The items will be sent to those in need in collaboration with relief efforts being led by Miami-Dade and Broward counties and local government partners.
In addition, members of the organization will be traveling to the Bahamas at a later date to assess needs and aid in relief and recovery efforts in collaboration with Bahamian officials and the community.