Who: Dolphins (9-5) at Las Vegas Raiders (7-7)
When: Saturday, December 26, 8:15 EDT
Where: Allegiant Stadium – Las Vegas, Nevada
Weather: Indoor stadium
"Our playoffs are this week against the Raiders," Dolphins Head Coach Brian Flores said. "That's my – let's call it the playoffs, this week against the Raiders. Let's call it that. It's one game at a time. That's kind of where my focus is. That's where we'll try to direct their focus. If they're talking about anything else, it's about the Raiders. It's one game. It's a one game season. Let's call it a one game playoff season."
The Dolphins understand the gravity of this game. An impressive 9-5 start to the season makes for meaningful football in December as the Dolphins can force a 'win-and-in' scenario in Week 17 with a victory Saturday in Las Vegas.
The Raiders' quick, controlled passing game paired with a bruising running game makes for an interesting matchup against a Dolphins defense that ratchets up the heat on opposing quarterbacks and produces takeaways at the highest rate in the NFL. 
We'll take a look at the latest injury report, key matchups to watch, the Raiders tendencies and the game notes to know ahead of Saturday's kickoff in this Week 16 preview.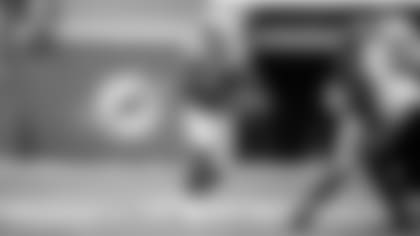 Friday Injury Report
Offensive guard Solomon Kindley and defensive end Shaq Lawson are OUT Saturday night in Las Vegas.
Wide receivers DeVante Parker and Jakeem Grant, tight end Mike Gesicki and offensive guard Ereck Flowers are all QUESTIONABLE for the game.
Defense end Clelin Ferrell, linebacker Nicholas Morrow, cornerback Darryl Worley and safety Erik Harris are OUT.
Defensive tackle Maurice Hurst is QUESTIONABLE.
The Dolphins defense has formed several habits this season, one of which is the league's top third-down defense, allowing a conversion rate of just 32.5 percent. On the other side of the ball, the Raiders enter play with the No. 2 ranked third-down offense (49.1).
Both teams set up third-down success by winning on the early downs. The Raiders offense averages 5.19 yards per play on first down with a strong mix of a power running game and short passing attack (7.9 intended air yards ranks 20th in the NFL).
Miami's third-down defense does more than just get stops – they create takeaways. Seven of the team's 16 interceptions have occurred on third down with a passer rating against of just 62.7 on the crucial down, best in the NFL.
The Dolphins have been difficult to pass on all season. Opponents have a passer rating of 83.9 against Miami, third-lowest in the NFL. Though both effective in 2020, the quarterback options of the Raiders come in stark contrast. Derek Carr's 102.0 passer rating is ninth-best in the NFL, but he was relieved last week (groin injury) by Marcus Mariota, who saw his first regular-season action since Week 6 of the 2019 season. Mariota threw for 226 yards and added 86 on the ground in the Raiders' overtime loss to the Chargers.
Mariota wasn't sacked in his first game as a Raider, but he took an average of 3.68 sacks per game his last two years in Tennessee. Carr has been sacked just 20 times in 14 games this season and was dumped only 29 times in 16 games last year.
Miami's 37 sacks are tied for the 10th-most in the NFL and their 45 QB hits are ninth-most.
There's a significant discrepancy in the turnover department as well. Carr's interception rate hasn't eclipsed 1.8 percent since 2017 while Mariota's career interception rate is 2.5. However, Mariota has 33 career fumbles to Carr's 63.
That includes significant more time as a runner for Mariota. He has 1,487 career rushing yards and 12 touchdowns on the ground compared to Carr's 210 yards and five career rushing touchdowns.
Whoever plays quarterback will see a premier matchup off the quarterback's right side, primarily where defensive end Emmanuel Ogbah lines up. He leads the charge for one of the league's best pressure defenses. His 59 QB pressures are fourth-most among edge defenders, per Pro Football Focus.
Last week, the Dolphins faced the fullback with the second-most snaps in the NFL (New England's Jakob Johnson). It's more of the same this week when the third-highest snap-taker among fullbacks, Alec Ingold, takes the field. Ingold has carved out a pivotal role in creating space for Josh Jacobs, the NFL's sixth-leading rusher.
The Raiders haven't had their usual, imposing ground game in recent weeks. Jacobs rushed for 76 yards in the loss to the Chargers but just 131 yards for an average of 3.54 yard per carry over the three games prior.
Miami's run game found its legs last Sunday. The Dolphins picked up win No. 9 thanks in large part to 250 yards on the ground and three rushing touchdowns. The strong running game provided a boon to Dolphins quarterback Tua Tagovailoa to strike balance for Miami. Per Sports Info Solutions, Tagovailoa threw accurate passes (graded as catchable vs. uncatchable) on 24 of his 26 passes. He's seventh among NFL quarterbacks in that category on the season.
The Dolphins' efficient passing game, paired with chunk-gains on the ground, produced 22 points on just four possessions in the second half of the Patriots game. Miami ate up clock, retained the football and finished in the red zone. If they can consistently get that balance with their low-scoring, takeaway-prone defense, that's an awfully dangerous combination.
The Raiders offense ranks 11th in scoring (26.9 PPG) and total offense (375.0 YPG). Their 121.9 rushing yards per game is 12th and the 253.1 passing yards per game is 14th in the NFL.
No offense operates out of 22-personnel (2 RB, 2 TE, 1 WR) more than Las Vegas. With an experienced offensive line that averages 339 pounds to a man (heaviest in the NFL), the Raiders use formations with one receiver or fewer a league-high 15 percent of the time. 
Only two defenses in the NFL blitz at a lower rate than the Raiders, who bring an extra rusher on 20.5 percent of the defensive snaps. The four-man rush provides pressure on 22.7 percent of opposing drop-backs, the 17th-best rate in the league.
The Raiders defense ranks 29th in scoring (30.1 PPG allowed) and 25th in total defense (385.5 YPG allowed). Their 125.8 rushing yards per game allowed is 25th and the 259.6 passing yards per game allowed is 26th in the NFL.
The all-time regular season series between the Dolphins and Raiders is tied at 17-17-1.
A win Saturday secures the first season with 10 or more wins for Miami since 2016.
Running back Salvon Ahmed was the first Dolphins running back to rush for 100 or more yards in a game since 2018 and it was Miami's first game with 200 or more yards on the ground since 2016. Two of the last three Raiders' opponents have rushed for better than 200 yards.
The Dolphins have the top-ranked scoring defense (18.4 PPG allowed) and third-down defense (32.5 percent conversion rate). Miami's 26 takeaways are also best in the NFL.
The primetime schedule bumps kickoff to the evening, but as always, we'll have postgame recap story and Saturday spotlight on MiamiDolphins.com following the game. Plus, John Congemi joins Drive Time with Travis Wingfield, part of the Miami Dolphins podcast network, to recap the game, available wherever you get your podcasts.