Sanders was 3-for-3 at Lucas Oil Stadium on Sunday, with all three kicks from 47 or 48 yards. That made him the first Dolphins kicker since 1999 to make three field goals of 45 yards or longer in the same game.
It was the kind of performance we got used to seeing from Sanders during his rookie season of 2018 when he was 18-for-20 on field goal attempts, including 8-of-10 from 40 yards or beyond.
"I've been looking for a game like this this season where it's kind of maybe a breakthrough to get things rolling, start getting on a little streak maybe," said Sanders, who had been 6-for-10 this season before Sunday, including 1-for-5 from 40 or beyond. "I'm coming off I'd like to say was a good year, so I'm trying to keep everything possible, the same. I know it's worked and it helped me out last Sunday."
Rookie running back Myles Gaskin was looking forward Wednesday after playing in his first NFL regular season game three days ago.
Gaskin was inactive for the first eight games of the season before getting the call for the game against the Indianapolis Colts.
"It was fun," Gaskin said. "It's football. I feel like I had a lot of questions about that, just kind of how I would feel about getting in. It was fun. We won another game, so just having fun with it."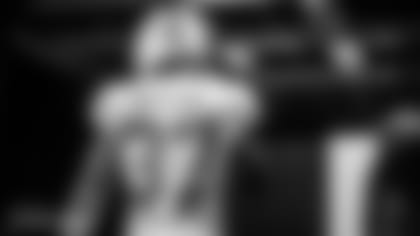 Gaskin didn't carry the ball but had one reception in the 16-12 victory.
He said he obviously would have preferred getting into the lineup at the start of the regular season, but made sure to keep learning while he waited his turn.
"Obviously you want to play day one; who doesn't?" Gaskin said. "But I realized that I had a learning curve definitely. Coming from college to the NFL, for everybody there's a learning curve. I took advantage of the time just kind of learning from everybody in the room. Everybody has their own style, their own way of studying, their own way of everything, so kind of just of picking up bits and pieces."
Safety Reshad Jones has missed the past four games, but he continues to take part in practice as he works his way toward a return to the lineup.
Jones hasn't played since being injured in the game against the Washington Redskins on Oct. 13.
"It's hard," he said. "I'm a competitor. Always want to be out there with my guys to help those guys win football games. But I can only take it one day at a time. I'm excited and happy to be back to help these guys."
Jones has watched the Dolphins continue to make strides over the past several games.
"They complement each other well," Jones said. "The offense is playing good. Special teams are playing well and the defense played well, that's how you win football games in this league. You've got to complement each other, all three phases of the game."
The Dolphins again had a long list of players on their official injury report after their first practice of the week, but cornerback Ken Webster again was the only one who did not practice.
Webster has missed the past two games because of an ankle injury he sustained in the Monday night game at Pittsburgh.
The NFL is holding a workout for former 49ers quarterback Colin Kaepernick on Saturday, and Head Coach Brian Flores confirmed the Dolphins will have a representative at the event in Atlanta.
As Flores put it, this is just the Dolphins doing their due diligence.
"I would say any time we can add a good player, we try to do that, we want to do that," Flores said. "But there's a lot of moving parts to that. (General Manager) Chris (Grier) and the personnel staff, they do a great job from that standpoint. (It's a) conversation we would have if that situation came up, but that's a conversation we have about not just one player. We've made a lot of transactions this year, so those conversations are had on a daily basis. If we feel like any player helps us win, then we would look into it."