The return of football is always a welcome sight, perhaps now more than ever before. An arduous offseason is in the books and everyone's favorite time of year is on the precipice. August in Miami means heat, humidity, hitting and hard decisions made in order to trim the roster down to 53 in time for Week 1.
In this training camp preview, we're going position-by-position giving you a glimpse into every member of the Miami Dolphins roster. We'll cover all the angles including who the players are on the field and off of it.
On today's docket, the tight ends, in order of jersey number.
Adam Shaheen – 3 accrued season (1st in MIA)
Jersey: --
College: Ashland
Opening Day Age: 25
The 45th pick in the 2017 draft came from Division II Ashland University in the state of Ohio. A former basketball player, Shaheen transferred from the University of Pittsburgh at Jamestown for an opportunity to walk on at Ashland. There, he put together four years of utterly dominant tape. His work in the open field slipping tackles and producing explosive plays earned him comparisons to some of the game's top tight ends from the industry's best draft experts.
"He's big, he's fast and he's tough after the catch," writes Lance Zierlein on NFL.com. "Who doesn't want that? When you watch him dominate his level of competition, it's easy to get excited about the potential results if that size and athleticism translates to the next level."
Shaheen moves like he's on the hardwood with a frame you'd find in a hooper. At 6-foot-6, Shaheen weighed 277 as a draftable prospect in 2017, but has trimmed 20 pounds down to 257 per the Bears official website in 2019.
For a team that wants to feature multiple packages on both sides of the ball, Shaheen fits the bill for multiplicity. His career-high in Pro Football Focus grades as a pass catcher and run blocker occurred in his 2017 rookie season while his best pass blocking production came from last year's body of work.
Shaheen adds an element the Miami offense needed by way of competition for in-line tight end work. Playing attached to the line-of-scrimmage on 65.5 percent of his 2019 plays, Shaheen could cause some matchup problems with the size-athleticism combination. He tied for his position group's lead in bench press at the 2017 combine (24 reps) with a sub-4.8 40-yard dash.
Durham Smythe – 2 accrued seasons (3rd in MIA)
Jersey: 81
College: Notre Dame
Opening Day Age: 25
Going off of his 2019 utilization, there is very little mystery about the type of player the Dolphins believe Smythe to be. He was on the field for 44 percent of the Dolphins offensive snaps a year ago playing inline on 78.5 percent of those reps. Like Shaheen, Smythe was near that 4.8-second 40 time (4.81) and excelled in Notre Dame's run-heavy system as a collegian.
Rarely called upon as a pass catcher in college (28 receptions in four years), Smythe's professional deployment has been similar. He has 13 receptions in two years, but surrendered just five quarterback pressures on 132 pass-blocking reps over that span. His run-blocking grade improved by more than 11 points on PFF from rookie year to Year 2.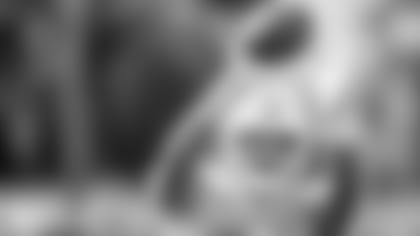 If anyone is going to beat Smythe for No. 2 tight end duties, they'll have to prove their worth on special teams. Smythe was second on the Dolphins in tackles (5) on Special Teams Coordinator Danny Crossman's unit last season and has played 473 snaps as a special teamer since his 2018 rookie campaign.
In December 2019, Dolphins Tight Ends Coach George Godsey praised Smythe's improvement on the field, in the weight room, and excelling in the role asked of him.
"This year [Smythe's] put on I'd say 20 pounds from the end of last year, so that's helped him," Godsey said. "He's understanding the offense. He does a good job with his details and knowing his assignments. There haven't been many missed assignments. That gives him a start and then as far as executing at the point of attack, a lot of times the runs are directed at him. So it's either point of attack blocks, sometimes pulling, sometimes cutting off the back side. He's had multiple assignments that he's performed well throughout the year."
Chris Myarick – No accrued seasons (2nd in MIA)
Jersey: 85
College: Temple
Opening Day Age: 24.9
An undrafted free agent from Temple, Chris Myarick embodies what the Owls football program is all about – toughness. His collegiate production came primarily as an in-line blocker, averaging 1.1 receptions per game. Myarick earned a spot on the 2019 practice squad with a strong camp by consistently making plays in the passing game, and showing his worth as a blocker by uprooting defenders off the edge of the formation.
Myarick goes 6-foot-5, 255 pounds. His work in practice last summer translated to game day production during the preseason. He caught all eight of his exhibition targets for 102 yards with six first-down conversions. He concluded the preseason with strong marks across the board in PFF's grading system. Myarick posted an overall 89.6 offensive grade, the best of the Miami offense in the preseason.
Godsey praised Myarick's attitude and work habits last summer during camp.
"He took advantage of his reps, did well in the run phase, did well in the passing phase, as you saw in the last game," Godsey said. "I like the way his attitude is. He comes into work, doesn't say much – as pretty much most of the rookies shouldn't say a lot. He learns from the veterans and then he goes out there and gives it the best he can. He's a great effort player, too. When you combine all of that together, that's really where he made the most of his opportunity."
Myarick ran a 4.81 40 time at his Temple Pro Day in 2019 with 23 bench press reps and a 32.5-inch vertical.
Bryce Sterk – Rookie
Jersey: 87
College: Montana State
Opening Day Age: 24
Miami's lone rookie in the tight end room will attempt to convert from the defensive side to the tight end position as a pro. A former high school tight end, Sterk's college career began at the University of Washington and ended with All-American production at Montana State.
Sterk finished sixth in FCS in sacks in 2019 and made 37 tackles for loss in his two-year Bobcats career. Hard work is a staple of Brian Flores' Dolphins, and that's exactly where Sterk will have to shine to successfully make the transition back to offense.
In an offseason story from the Bozeman Daily Chronicle, Sterk detailed his workouts in preparation for his Pro Day and the draft process.
Mike Gesicki – 2 accrued seasons (3rd in MIA)
Jersey: 88
College: Penn State
Opening Day Age: 24
Few players on the Dolphins roster shined brighter than Mike Gesicki during the team's 5-4 finish to the 2019 season. Gesicki, a former high school volleyballer who specializes in out-leaping and out-rebounding opponents, became a true red zone threat and explosive playmaker in the Miami offense.
Gesicki tied for seventh in touchdowns (5) and 12th in the receiving yards (570) among his positional contemporaries. As things started to change for the 2019 Dolphins, the same was true for Gesicki. From the Week 6 game vs. Washington to the finale in New England, Gesicki ranked fourth among tight ends in touchdowns (5) and 10th in yards (519).
Godsey highlighted the improvements Gesicki made from his rookie season to Year 2 during a December 3rd media availability last season.
"Any first year player is going to go through some bumps the first year," Godsey said. "Just showing him on tape that we could be better at releases, we could be better at route stems, we could be better at the top of the route, we can communicate better with our teammates – the quarterback specifically – we can catch the ball more before and after practice. To his credit, he's accepted all of that. He's worked hard. He's taken countless reps in practice to improve his traits. I'm happy that he's able to go out there and perform."
Gesicki's usage and production are that of a souped-up wide receiver. Of his 701 snaps last season, 461 came from the slot and 78 flexed out wide as a perimeter player. Gesicki was fourth among NFL tight ends in slot-yardage production (382) and third in touchdowns (3). No touchdown was bigger than Gesicki's game-winner in Week 17 over the rival Patriots.
Gesicki's ability to line up all over the formation can create match-up and substitution problems for the defense. For the 6-foot-6 weapon with a 41.5-inch vertical and 4.54 40 time, Gesicki allows Miami to seamlessly transition from a variety of personnel groupings.