The return of football is always a welcome sight, perhaps now more than ever before. An arduous offseason is in the books and everyone's favorite time of year is on the precipice. August in Miami means heat, humidity, hitting and hard decisions made in order to trim the roster down to 53 in time for Week 1.
In this training camp preview, we're going position-by-position giving you a glimpse into every member of the Miami Dolphins roster. We'll cover all the angles including who the players are on the field and off of it.
On today's docket, part one (two parts) of the offensive line, in order of jersey number.
Shaq Calhoun – 1 accrued season (2nd in MIA)
Jersey: 62
College: Mississippi State
Opening Day Age: 24
A rookie undrafted free agent in 2019, Calhoun played in 10 games and started seven last year on the Miami offensive line. He totaled 471 snaps on offense and 34 on the field goal team. According to Pro Football Focus, Calhoun was in the lineup for 139 run-blocking snaps and 332 pass-blocking downs, on which he surrendered only five total quarterback hits.
Brian Flores applauded Calhoun – among others in last year's crop of UDFA's – for the desire to improve and develop on a daily basis.
"He's in early on Tuesdays, Flores said. "He's working. He knows the opponent. He tries to get an idea of what we're doing schematically, specific players who are going to be tough to block in this particular scheme, how important this double is, how important my angle on this pull is. All those things go into it. That is a process, and I think he's getting better at that week-to-week so hopefully when he does get into the game, he can execute and play well."
Michael Deiter – 1 accrued season (2nd in MIA)
Jersey: 63
College: Wisconsin
Opening Day Age: 24
A third-round pick out of Wisconsin in 2019, Deiter is no stranger to playing multiple positions. He made 53 consecutive starts (no missed starts his entire career) along the Badgers line as a collegian. He played 16 games at center, 13 at left tackle and 24 at left guard – the latter of which he started 15 games at with the Dolphins last year. Deiter played 995 offensive snaps in 2019 and 61 more on special teams (field goal unit).
Badgers football and offensive linemen go together like the state of Wisconsin and cheese. Technique and power are traits of most of the 11 Badger offensive linemen to get drafted into the NFL over the last decade. Duke Mayweather trains a new crop of linemen draft hopefuls each year in the run-up to the draft and had this to say about the typical Wisconsin big ugly.
"Wisconsin has traditionally done a great job of recruiting talent from the high school ranks that not only have the physical traits we all get enamored with, such as height, length, weight, power, explosion and athleticism, but they find the players that usually have a very good base of fundamentals and technique," Mayweather said.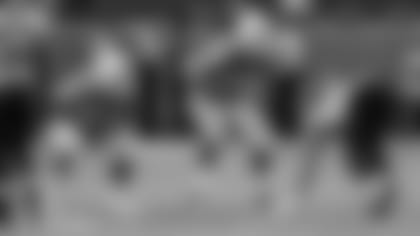 Dolphins General Manager Chris Grier echoed those comments after the Dolphins selected Deiter with the 78th pick in the 2019 draft.
"Just his consistency and toughness," Grier said of Deiter's desirable traits. "It's typical Wisconsin. You kind of watch it, you kind of know what you're getting. It's kind of the meat and potatoes – not the flash – so that's what you appreciate. This guy (started) 54 straight games in that conference, (which) speaks for itself. He's an easy player to evaluate and a great kid as well."
Deiter's improved play down the stretch was evident in the numbers. He didn't allow a sack after the Week 11 game against the Bills and finished the season with his best PFF run-blocking grade in the Week 17 win over New England.
Danny Isidora – 3 accrued seasons (2nd in MIA)
Jersey: 65
College: Miami
Opening Day Age: 26
Returning back to his college stomping grounds after a trade, Danny Isadora stepped right into the starting lineup after coming over from the Vikings last September. The South Florida reunion was short-lived as an injury cut the former Hurricane's season short at just three games and 127 snaps.
Isidora saved the best for last with an 83.6 PFF pass-blocking grade in the Dallas game with a clean sheet in pass protection (no sacks, hits or quarterback pressures).
Solomon Kindley – Rookie
Jersey: 66
College: Georgia
Opening Day Age: 23
Listed at 6-foot-4, 339 pounds, Solomon Kindley is a wrecking ball. His sheer density creates longer routes to the quarterback for his opponents in the passing game and leads to some almost comical pancake blocks on his college tape. NFL.com Draft Analyst Lance Zierlein noted Kindley's ability to both win with power and finesse.
"Nasty guard who lives in scrap mode, looking for fights inside a relatively small phone booth," Zierlein writes. "Kindley has the frame of a powerful guard. He's a mauler with enough finesse to get to some reach and cut-off blocks. The size and toughness are great."
Kindley played on the right side early in his career, but moved to left guard in 2018 where he started each of the last two seasons. Kindley played 2,005 snaps in his collegiate career and allowed just four sacks and 14 hurries on 901 pass-blocking reps.
Flores appreciates the physical aspect of the game, something he sees when he watches Kindley play.
"I would say that's the one thing that stands out," Flores said. "He's a physical kid. He plays the game physically and looks like he enjoys (the game). When you watch him play, you get the feeling that he enjoys the physical part of the game."
Ted Karras – 4 accrued seasons (1st in MIA)
Jersey: 67
College: Illinois
Opening Day Age: 27
After three years as a swing interior lineman, Ted Karras was called upon to fill in at center in 2019 for the New England Patriots. He started 15 games, played 90 percent of the Patriots offensive snaps and continued an impressive run of mostly mistake-free football.
Over the last six years of Karras' football career (four as a pro, two in college) he's committed only eight penalties over that 85-game span (45 starts). His best football came down the stretch for the Pats – he was Pro Football Focus' No. 2 overall graded center over the final six games of the season. On the year, Karras allowed only 14 pressures, which ranked sixth among all centers who played at least 500 snaps in pass protection. Only three of those pressures resulted in quarterback hits, giving Karras an impressive .005 QB hit allowed rate.
Karras reunites with Flores in Miami after the two spent three years together as members of Miami's AFC East rival. Patriots Head Coach Bill Belichick had some glowing praise of the Dolphins new man in the middle.
"Ted's been a very dependable player for us for four years," Belichick said. "He's played guard for us … Ted's had the opportunity to play more and he's stepped in and played consistently like he really always has for us. Ted's a smart player. He's strong, he can anchor the middle of the pocket and his communication with his teammates on the offensive line – which is critical for the center position to handle blocking schemes and protections and so forth – has been good."
Robert Hunt – Rookie
Jersey: 68
College: Louisiana Lafayette
Opening Day Age: 24
The beauty of taking in the NFL Draft on television is in the detail provided on each player. Perhaps the most absurd stat given to the audience on the final weekend in April was attached to new Dolphins offensive lineman Robert Hunt. According to the statistics kept at Louisiana-Lafayette, Hunt allowed only two pressures in his final season and did not miss a run-blocking assignment.
His tape is chock full of dominant play where he controls the point against the run and locks out in pass protection. He's played both guard and tackle, and according to PFF, Ragin' Cajun runs in 2019 behind the big right tackle resulted in a 63 percent success rate and 4.1 yards before contact – the latter lead all 22 interior line prospects charted.
According to Chris Grier, the Dolphins took Hunt off the board in front of other teams that were hoping to land the 6-foot-5 323 pound lineman.
"He's a tough, physical player," Grier said. "He plays with an attitude. He's got good football intelligence. It's important to him. A lot of those criteria and qualities the coaching staff is looking for, this kid has them so we're very excited. After we took him, Brian and I got multiple texts from people on other teams saying that was their guy, so we were happy to get him and think he will be a good fit. (We are) looking forward to having him – when he gets here – to work and get on the field and compete for a job."
Julie'n Davenport – 3 accrued seasons (2nd in MIA)
Jersey: 70
College: Bucknell
Opening Day Age: 25
Coming over in a trade towards the end of training camp, Davenport entered the lineup at left tackle immediately for the Dolphins opener. Davenport suffered an injury in that game that would keep him out until the Week 11 game against Buffalo. He finished out the season over the final four games with positive PFF grades in the pass-blocking department with one sack allowed, two quarterbacks hits and seven pressures surrendered.
Flores talked last December about the areas where Davenport got more consistent as the season progressed.
"We've harped on him about just consistency with his technique," Flores said. "The kid's athletic, but he's got to play with good footwork, hand placement, tight hands, a low base in the run game. He's starting to do those things a little bit more consistently."